SYDMOB #3 Saturday, 20th September 2003 - Approx participant count: 100+
Emailed Instructions


Since today (Friday 19th of September) is "International Talk like a Pirate Day", I thought we'd do our share. So here you all go, the email instructions for SYDMOB #3 as a pirate would say it. Ya-haar!

** PS: The 'normal' email instructions can be found below it ((: **

SYDMOB #3

Arrrr! By ye rise of the earl' morn ye should have ya timepiece aligned to the suns rays accordin' to the telstra clock. Be lookin to speak to those salty dogs on 1194

When ya timepiece be pointin to 20 past the 11th hour of the morn, ye should have set sails full mast to t'inner city. Cast ye way ov' to the place where tis said th' Martin did rest down onto the dusty ground fallen soldiers, ye place be easy seen even with ye own tired salty eyes by t'cenotaph that be found ther'. http://www.whereis.com/search/email_map_redirect.jhtml?id=279623

Keep ya eyes open for a scruvy landlubber, the yellow upon the skull tis what ye be needin' to be watchin' for. Once yast has found, askin' "F.A.B" and ye bounty will be yours t' reap. Cast ye eyes upo' the scribbled word and pull up ye anchor.

SYDMOB #3

On the morning of Saturday 20th of September, you should have already synchronized your watch to the time of the telstra clock available by calling 1194

By 11:20am you should be in the inner city. Go to Martin Place, locate the War Memorial Cenotaph. http://www.whereis.com/search/email_map_redirect.jhtml?id=279623

Within that vicinity locate the Mob Rep wearing a yellow cap. Once found, say this phrase "F.A.B", you will then receive your instructions.

Move away, read it, then follow them.


Script Instructions
SYDMOB #3

Mob Length: ??? (converge at 12:13pm, disperse when signalled) Mob site: Pitt Street Mall

**Once you have recieved these instructions, complete a coin toss**

If you got Heads, converge from SkyGarden Arcade entrance (Seiko Clock)
If you got Tails, converge from MidCity Centre Arcade entrance (HMV)

12:13pm - Converge from your designated arcade entrances out onto Pitt Street Mall

Heads: When Mob Rep puts on yellow cap, form a circle around them, ready to walk counterclockwise.
Tails: When Mob Rep puts on black leather hat, form a circle around them, ready to walk clockwise.

*Remember the show 'Thunderbirds'? Begin to walk around like your a puppet & held up by strings*

When the mob rep remove their cap/hat, yell "5, 4, 3, 2, 1, Thunderbirds are go!" & DISPERSE
No one should be left at the site. Go about your normal business.

Once read and memorised, hide this slip from view. Do not throw into a public bin.
This would have to be the most hilarious event to date; 100+ people walking like the puppets from The Thunderbirds in two circles, once clockwise and the other anticlockwise, midday in the middle of a crowded inner city mall. We definately held the attention of the general public for the 2 minutes the event went for, ending with a VERY loud Thunderbirds catchcry before dispersing back into the midday crowd. The converge, act and especially the disperse was pulled off once again with amazing accuracy by the SYDMOBbers. For an idea that I thought first to be a little too complicated to work well, it certainly proved to be very amusing for onlookers and participants alike.

SYDMOB #3 has definately upped the benchmark for our future events and we'll be working hard to at least try to outdo this one.
MOB IMAGES
Below is a collection of images taken at the event (Thank you very much to Camilla & Kris for allowing access to these images)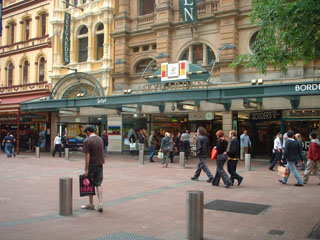 The location (Pitt Street Mall)
The mob reps in place.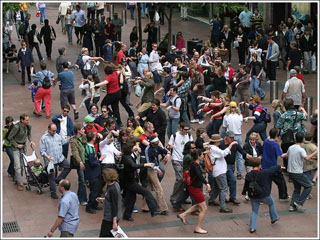 With the signal given, the mobbers converge...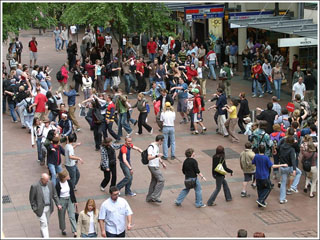 ...and the act begins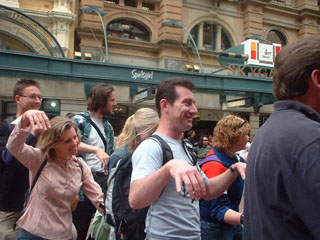 Happy smiling SYDMOBbers!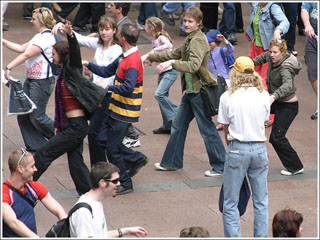 More happy mobbers getting into the fun
Little flashmobbers!
5..4..3..2..1..Thunderbirds are..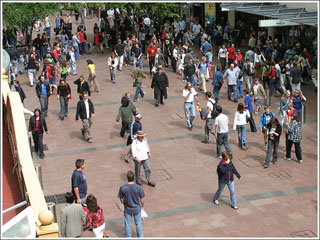 ...GO!
VIDEO FOOTAGE (and other media)
Much appreciation goes out to David VanDross for contributing the footage he and a friend captured at this event. Not only do the following files show mutli-angle shots, but he's also gone that extra mile and thrown in The Thunderbirds theme over the top of the actual act itself. Bloody nice job Dave!

The footage once coverted over to WMV was 9 megs in size, so it's been split into three 3 MB seperate files (Another big thanks goes out to Mal for once again handling the converting, you're a champ!)

The first file features a few mobbers picking up instructions, then over to the location, to the converge and start of the actual act itself - Mob3_1.wmv - 3MB

The second file shows the act in full swing - taken from two different angles to show the size both circles managed to get to - note the looks on some of the spectators faces ((: (Also, who is the guy in the red shirt, grey beard ? Whoever you are, contact us - you did a fantastic TB impression!!) - Mob3_2.wmv - 3MB

Finally, the third file shows the act still at it - with the very loud TB catchcry and a really nice looking disperse, again taken from two different angles - Mob3_3.wmv - 3MB

If anyone would prefer the full file intact, here you go - mob3_Full.WMV - 9MB

Also thanks to some fantastic photos of the event taken by Roger Barnes ( http://roger.mindsocket.com.au/pages/gallery/2003-09-20/index.html ) and some hardwork by Adriana, we can now present you with an WMV animation of the event, from converge to disperse, taken a few floors up looking down onto Pitt Street Mall. sydmob#3.WMV - 1.3MB

If you attended SYDMOB #3 and have footage/images which you would like to contribute to this page, please contact us. Thanks to everyone who came along and we hope to see you all at SYDMOB #4 !