SYDMOB #5 Sunday, 19th October 2003 - Approx participant count: 120
Emailed Instructions


SYDMOB #5

On the morning of Sunday 19th October, you should have already synchronized your watch to the time of the telstra clock available by calling 1194

By 12:30pm you should be in the inner city. Go to Herald Square at Circular Quay (lots of funky sculptures) Corner of Alfred & Pitt Street

http://www.whereis.com/search/email_map_redirect.jhtml?id=288925

(The Mob Rep will be present at this location only between 12:40pm and 1:20pm)

Within that vicinity locate the Mob Rep wearing a blue beret. Once found, say this phrase "Reporting for duty" - you will then receive your instructions.

**NOTE: It is vital that EVERYONE intending to take part in this event approaches the Mob Rep to receive their OWN SET of instructions

Move away, read it, then follow them.


Script Instructions
SYDMOB #5

Mob Length: ??? (converge at 1:30pm, disperse when signalled)
Mob site: Grass area in front of Museum of Contempary Art, Circular Quay

By 1:28pm you should be casually mingling around the general vicinity of the grassy area directly in front of the Museum of Contempary Art. Don't bunch up - but stay well within earshot.

1:30pm - A Mob Rep wearing a blue beret should now be present in the area. Another Mob Rep will soon appear wearing an army slouch hat. When this Mob Rep yells "Atten-Hut!", fall in behind the blue beret Mob Rep.

*You've just been ordered onto parade, private. Fall in, arms length space between each other. Stand legs apart, arms behind your back, chin high. You better hope those boots are polished because this guy definitely woke up on the wrong side of his army issued hammock. Follow his commands and follow the actions of your Captain in the blue beret. Answer each question with "Sir No Sir!" or "Sir Yes Sir!" - otherwise, you may just be peeling potatoes for the rest of your training*

When the mob rep shouts "DISMISSED!", DISPERSE!

No one should be left at the site. Go about your normal business.
Once read and memorised, hide this slip from view. Do not throw into a public bin.
This event was based on an idea submitted to us by one of the many mobbers that answered our request to both mailinglists for idea submissions for our next event (so we could continue concentrating on the Global Flash Event happening on the 25th) The concept idea was that of a spontaneous 'army boot camp', so with the idea also of an angry drill instructor, we went ahead with it. We couldn't have picked a better day to hold this event, the weather was absolutely beautiful. A perfect day on the harbour also promised a nice big crowd of onlookers too.

With this one we once again went more with the idea of "doing it all on the fly" rather then having it all scripted. And even though the act itself was very funny, we did hit a few hiccups. The 'drill instructor' for one was starting to get a bad case of stage fright when he realised what he'd agreed to do - stand in front of 120 strangers, barking commands and generally acting up the part. He went through with it though, and did manage to raise a few laughs. The mobbers did a few pushups, running on the spot, and interacted with the drill instructor in a mock esque sydmob version of "Full Metal Jacket"

One individual that was certainly none too impressed with our antics was an english busker doing his thing about 50 metres away from the location we had chosen. When the audible signal was given for all the mobbers to converge, the busker unfortunately lost about half of what he previously assumed was an interested audience. Thus throughout the 2 video files added at the bottom of this page, you'll hear him in the background shouting out his digust from time to time. I really didn't understand his problem, after all he had a PA system, we certainly didn't - perhaps our act was a little more interesting then one man juggling ((;

Also recieved a few posts on our discussion lists from people expressing their concerns with the act leaning more towards "control" and "authority" rather then just the usual silly fun. Well I suppose that was the point, if you come to our events expecting the same thing everytime, that would take away a lot of the appeal we think. All in all though, most people saw the fun we were poking and realised it was just all tongue in cheek.


MOB IMAGES
Below is a collection of images taken at the event (Thank you very much to BillyC)

Unfortunately for this event our usual gang of photographers were not at hand, so if you attended this event and managed to grab some great shots, please forward them onto us. Thanks!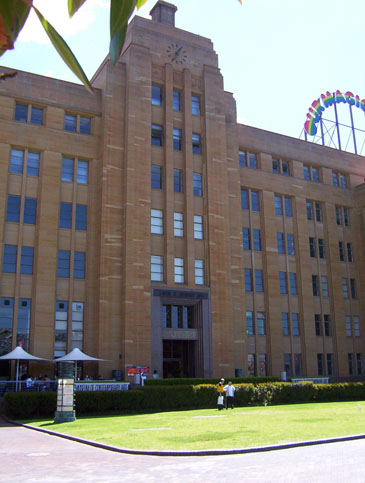 Grass area in front of the MCA - Circular Quay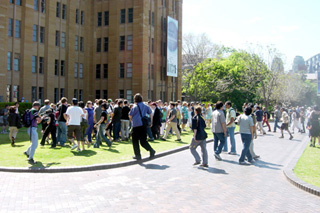 Mobbers converge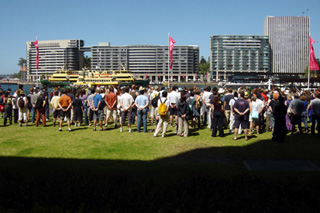 Mobbers in formation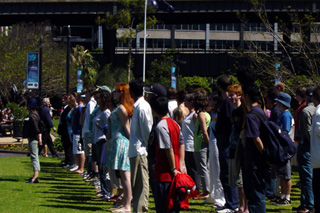 Waiting for orders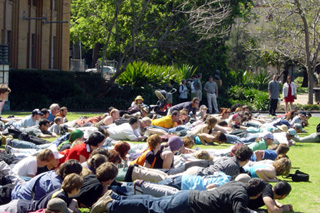 Gimme one!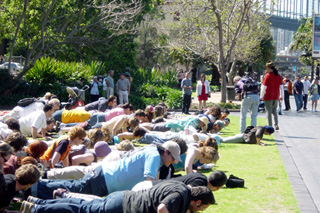 Gimme two!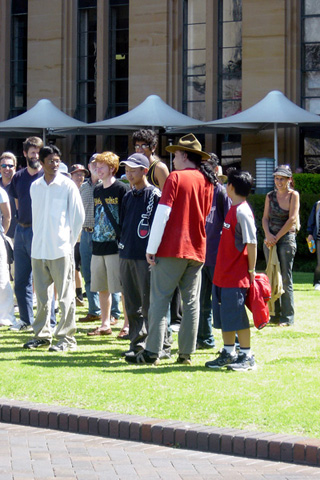 Drill Instructor HardArse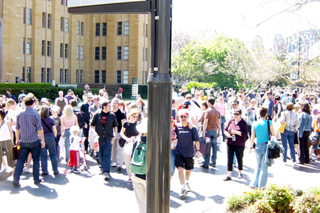 Mobbers dismissed!
VIDEO FOOTAGE (and other media)
Below are two files which feature footage of the event and even though the quality isn't what we were hoping it would've been, you can still pretty much get the jist of what went on. Keep an ear out throughout the two video's for the angry busker in the background.

These files require that you have the latest DivX Codec, available here

sydmob5_1.avi 6MB
sydmob5_2.avi 6MB


As always, any other footage or photos people wish to contribute is more then welcome.