GLOBAL FLASHMOB Saturday, 25th October 2003 - Approx participant count: 350 - 400
Emailed Instructions


GLOBAL FLASHMOB

On the morning of Saturday 25th October, you should have already synchronised your watch to the time of the Telstra clock available by calling 1194

*By 1:20pm you should be in the inner city. Go to Circular Quay, to the location where the ferries arrive. A Mob Rep will be between Wharf 5-6, wearing an eye patch. Once found, say this phrase "All aboard" - you will then receive your instructions.

(*The Mob Rep will be only present between 1:30pm and 2:00pm*

**NOTE: It is vital that EVERYONE intending to take part in this event approaches the Mob Rep to receive their OWN SET of instructions

Move away, read it, then follow them.

(Mobbers are cordially invited to attend the Cat and Fiddle Hotel @ 456 Darling Street Balmain for afternoon drinks/post-event celebrations)
Script Instructions
Global Flash Mob

Mob Length: ??? (converge at 2:15pm, disperse when signalled)
Mob site: "Monumental Stairs" leading to the "Monolith Forecourt" on the front of the Opera House (Southern end).

By 2:12pm you should be casually mingling around the general vicinity in front of the eastern side of the Opera House.

2:15pm - Mob reps, wearing eye patches, will sit down on bottom of the monumental stairs. Pick a rep, sit on the steps behind them leading up to the opera house giving yourself a little space (we want lines of roughly the same amount of people going up the steps).

When the mob reps begin singing "row row row your boat", join in, making rowing motions. Mobbers sitting on the east side, rowing to your east, mobbers on the west, rowing to your west. Try and get in sync with those around you as if we are all rowing the same boat. sing the song LOUD and cheerfully, six (6) times.

After the song has been sung 6 times, everyone should stand, point in any direction you like, count to three silently and shout "LAND AHOY !! LAND AHOY !!" then make your way to the top of the stairs.

Dance a merry jig with the nearest mobber. If you're unsure what a "jig" looks like, watch the Mob Reps. When the reps remove their eye patches and shout "POLLY WANT A CRACKER" and turn to the WEST (Rocks), wave hello, count to three silently and then everyone yell "HELLO KOREA!!"

Follow this up with a thunderous applause then disperse.

No one should be left at the site. Go about your normal business.
Once read and memorised, hide this slip from view. Do not throw into a public bin.
Well what can be said about this one: Bad weather looming, an encounter with the "fun police", a great location, the largest amount of mobbers we've seen so far ,part of Global Flash Mob #1, and an overall total and utter success. This one started off with all the sure signs of things falling apart. When I awoke on Saturday morning and saw the weather, I had the horrible image of a total washout (a day earlier the Weather Bureau had forecast "Sunny hot day, 29 degrees..shyeah, thanks for the tease guys) and after some emails back and forth between myself and the volunteers, we also realised we had no backup plan. Having never had to depend on one before, I was at a loss as to how to go about it, without having the location handy to find landmarks and another suitable location anyway. Then I remembered that the Opera House had a 'virtual tour' online which may help, so we checked that out. After some ummming and ahhhing (mostly on my behalf I'll admit), it was decided to just bite the bullet and hope that the weather held off.

On the way to meet up with Mal & Adriana, I commented to my housemate how nervous I was about this one, even more nervous then I was for the previous mob event where I had to "play act" to a certain extent (you can take my word, I won't be attempting that ever again...I'm definitely not a born actor :P) We all met up, discussed the event and all agreed we should be ok, at least weather wise. Then it was off to the mob rep location, on with the eye patch and out with the scripts. This is when things really got interesting!

I'd never actually worn an eye patch before so I wasn't prepared for the sensation of my vision going very astray (ever worn an eye patch and suddenly got an itchy eye? it's not too much fun *lift patch* *scratch eye* *repeat process*) The punters soon begin to arrive, in droves. As I was too busy trying to cope with the eye patch annoying my eye, and my wrist starting to ache from ripping out so many scripts from the script folder to all the punters, I hadn't noticed that a que was forming. Now, when it comes to trying to do something which is pretty much supposed to be inconspicuous, a large forming que certainly doesn't come under as one of the things you'd want to see happening. I'd have to admit though, the location chosen for actually handing out the scripts was a poor choice on my behalf. Usually the location would be happening in a mostly empty nearby public park or something similar. But for some reason for this one, I thought doing it between two busy Ferry wharfs (next to a Charlie Chaplin mime who was giving me a rather nasty look by the end of it all I might add) would be a viable solution. Boy, was that ever the worse decision!

At about 1:40pm, as the que was thankfully starting to just become a person walking up now and then, a couple of burly unhappy looking security guard looking type guys approached me. They asked what I was doing and in the same sentence informed me whatever it was, I wasn't allowed to do it. When I asked them if they actually knew what I was doing, one of them held up a script and said "We got one" Now, that's never a good thing, you don't want security type people to have a copy of your flash mobbing script in their hands. It was then that they also informed me that I would need to leave. Noticing there was a media presence watching the proceedings, I decided I'd question as to why I would need to leave. Apparently you need a "permit" to stand along the Sydney Harbour Foreshore handing out pieces of paper (though technically, I wasn't handing out pieces of paper, I was giving slips of instructions to people involved in a somewhat private function.. but anyway..) Realising these guys weren't about to back down, I asked them where their jurisdiction started/ended, to which they told me. So, with that in mind I asked Adri to put on the other eye patch and asked her to point the rest of the mobbers looking for the instructions to across the road, just in front of the local McDonalds where I would be standing. Satisfied with knowing that I was leaving, the security guards left and I walked off with the rest of the scripts and waited for more punters to arrive. Standing there, murmuring to myself pretty much every nasty word I could think of, I noticed a police car pull up to my left. Ohhh goody, this is just getting better and better!

The officer in the car stepped out of his vehicle watching me, but then just stood there with his arms crossed. I was getting pretty nervous imagining that he was just waiting for another car to arrive so they could cart me off. Some more mobbers arrived and disappeared as quickly as they came. I looked over at a nearby clock on a building and noticed it was about time to pack it up script distribution wise and move on. Removing the eye patch, I looked back over to the police officer just as he hopped back into his car, went briefly onto his radio and drove off... in the direction of the Opera House. Now I was really starting to sweat it.

As we walked up towards the Opera House, we saw the two security guards walking back. With the image of the script in their grubby hands still in my mind, I had to find out how the hell they managed to get a hold of it. I stopped walking and asked them, to which they replied that they were under no obligation to tell me. To this I rolled my eyes and said "Ok, well.. a description of the person the got it for you then" They looked at each other and simply said "One of our friends got it", began walking away then looked back and yelled "Everyone around here knows us mate!" Yeah, up ya go guys. After a some brief discussion about it with Mal, Adri and my housemate, we came to the conclusion that I must've handed it out to their "friend" during the proceedings somewhere along the line. Then we all remembered the individual that walked up and asked "Can I have one of those?", and me, not being overly careful enough, unfortunately did. Had I had noticed the insignia on his shirt, which was the same as on the security guards, I might have thought twice. But then again, I don't think not handing the script to him would have made much of a difference in any case, these guys just wanted to be a pain in our butts.

All our concerns and worries were removed when we rounded the corner to the Opera House. No nasty men with batons were waiting, just what looked like eager mobbers far as the eye could see. All casually sitting on the seats, tables and benches surrounding the location. After some brief discussion with some media who were present and wanted to know the best place to stand for photos/footage (and putting a mic on Mal for some up close and personal sound capture :P), the Mob Reps were ready and everything was about to finally come together. Mal and Adri sat down on the steps, and the sky above Sydney broke out with a huge clap of thunder. It was like a audible cue that we'd forgotten to mention on the script :P Mobbers came out from everywhere! Just when everyone had arrived there would suddenly be more, running up the Opera House stairs to get into formation. It was absolutely amazing to watch 350 odd people suddenly converge and take part in what we had planned. It all went above and beyond to what we had hoped for and we couldn't have asked for a better end to the day. Oh, and the bad weather I mentioned earlier? It didn't start to rain until way after the disperse had happened. I think maybe someone up there thought we needed a break :P

Thanks to each and every one of you that came along on the day, you certainly gave us even more fuel to continue on with many more mobs to come!
MOB IMAGES
Below is a collection of images taken at the event (Thank you very much to Team Tempest & Samantha)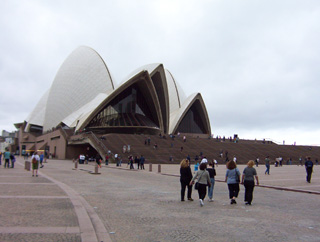 Opera House - Forecourt
Mobbers converge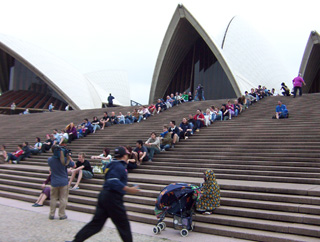 Row Row Row your Boat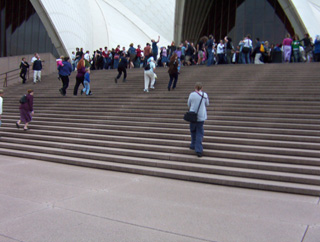 Getting ready to get Jig-gy with it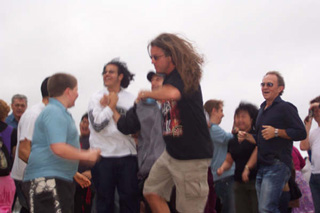 That's some nice moves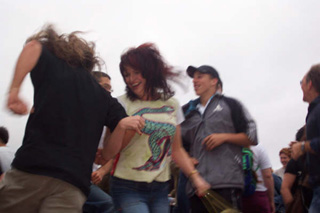 Get down with your mobbin' selves!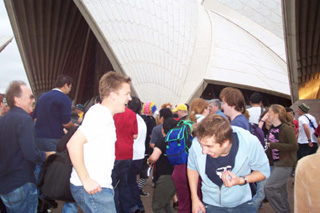 A laughing mobber is a happy mobber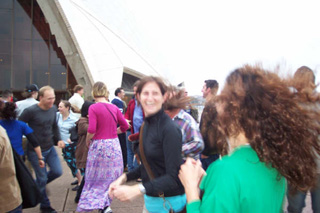 Shake it sistas!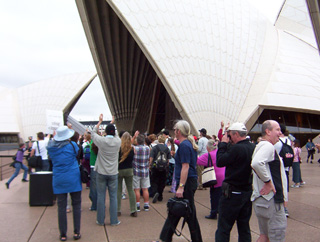 SYDMOB greets the west - Hello Korea!!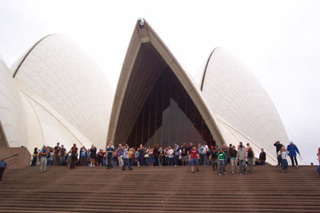 The mob about to disperse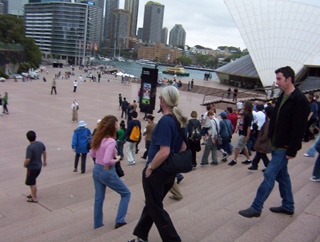 Dispersing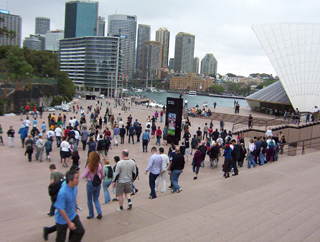 Y'all come back now, ya' hear!
VIDEO FOOTAGE (and other media)
Below are two files (2 in lowband & 2 in highband of the same footage) which feature footage of the event.

These files require that you have the latest DivX Codec, available here

Low Band Files

GFMLowband1.avi 6MB
GFMLowband2.avi 6MB

High Band Files

GFMHighband1.MPG 34MB
GFMHighband2.MPG 33MB

As always, any other footage or photos people wish to contribute is more then welcome.